Book Notes Digest #11
July 12, 2020
Hey all,
I missed last month's update, so have more to share than usual.
I finished six books and wrote several posts on my blog. Would love to hear your thoughts on them:
And if you'd like to share these emails out more broadly, you can use this link where anyone can subscribe: https://booknotes.substack.com/
Best,
Matt
---
1 -
If Beale Street Could Talk
"Sometimes, I admit, I'm scared—because nobody can take the shit they throw on us forever. But, then, you just have to somehow fix your mind to get from one day to the next. If you think too far ahead, if you even try to think too far ahead, you'll never make it."
A tragically sad story of a couple in love and the injustice inflicted by a racist cop. I intend to read more James Baldwin in the coming months (any suggestions?). I also went down the Youtube rabbit hole and recommend this speech from a debate Baldwin participated in 1965.
2 -
The 7 Habits of Highly Effective People
I have several core life principles. And one of the most important was to never read The 7 Habits of Highly Effective People.
After hearing endless praise for something that sounded incredibly silly to me (an entire chapter on "synergy"?), I vowed never to crack open the perennial best-seller. But then I heard some effusive praise for the book by someone I respect on Twitter. Which leads me to the today—I read it, and surprise—it was actually not bad.
Yes, much of the book feels commonsensical. But one key take away is how much of the self-help literature is derivative from many of Covey's articulated principles (or at least the overlap is high).
Ideas I liked: expanding one's circle of influence, quadrant II, and daily private victories.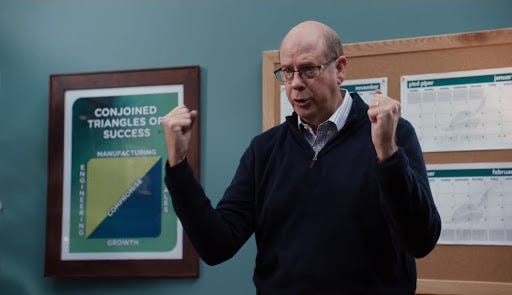 "Compromise is the shared hypotenuse of the conjoined triangles of success"
3 -
Reader, Come Home
"Deep reading provides our finest vehicle to travel outside the circumference of our lives."
Since I mainly read physical books, I've sought out research on the differences between analog and digital reading. Reader, Come Home is a nice overview of how the brain processes the printed word (on paper and screens), the important considerations around the information mediums we choose to consume, and general advice for raising young readers in a digital world.
Key ideas for me:
Human beings were not born to read - we are biologically evolved to speak and listen, but not to turn words on a page into thought

We suffer from a novelty bias, which from an evolutionary standpoint helped to keep us alive. We are hypervigilant toward our surrounding environment that was historically full of danger. But this means we need to train ourselves to go after the long reward and forego the short one.

It is unclear what the impacts of digital reading will have on our understanding. But the reduction of the "geometry" of read words will certainly have some impact

Joint attention is key for language learning (parent and child both focused on a book for example)
4 -
Operating Manual for Spaceship Earth
"If it is true the the bigger the thinking becomes the more lastingly effective it is, we must ask, 'How big can we think?'"
A quick, albeit very dense read of some of Buckminster Fuller's "big ideas"—the rise of the Great Pirates (and their role in the development of civilization and government), mind fellowships (UBI for people to think), and the path towards saving the planet. 
The discussions of specialization resonated most with me. He asserts that a never-ending focus on specialization is one of society's greatest failures.  Because technology isn't "comprehended integratively," its benefits are localized. Humans want to understand the entire world and "put everything together." And specialization is an impediment to that.
5 -
The Tartar Steppe
I came across The Tartar Steppe when reading The Black Swan, and decided to give it a read. It's a story of young soldier assigned to a Fort that serves no real purpose. He spends his life waiting for the battle that most likely will never come, but can't escape the pull of the Fort despite its pointlessness.
I found the ending to be quite poignant (but won't spoil it for you).
6 -
Give and Take
"Givers advance the world. Takers advance themselves and hold the world back." — Simon Sinek
Our personal and professional success hinges on how we approach our interactions with others. We can act as takers, seeking to maximize what we get and minimize what we give, matchers, aiming for fairness in all our exchanges, or givers, giving freely without expecting anything in return. We're naturally biased to believe that givers are the doormats of the working world. However, givers can be wildly successful because they aren't just overextending themselves. They are maximizing the building of their professional and personal networks, influencing others in powerful ways, and giving to the extent that they are energized, but not so much that they burnout.
While the book was a little light on substance and heavy on the anecdote, I did like several concepts, including the power of weak and dormant ties in personal networks. Givers are able to build out large networks through reciprocity, but connections often fall dormant. While only 100-200 connection may be active at any point in time, there may be thousands of dormant connections. Dormant ties can be reactivated without discomfort, and provide novel inputs for solving problems. And as you age, you can collect many dormant ties to reactive when a situation arises. It's akin to "calling in a favor" when a "favor" might just be, I have an interesting question for you.